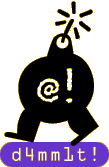 FWD Computing/Angelite Prod. ™ Since 1986 we have tried to provide software solutions to computer users who wanted more than the "usual" run of the mill software.
Company Headquarters:
FWD Computing
P.O. Box 17
Mexico, IN 46970
USA
Voice Line: 765-473-8031
Available Tues-Thursday Noon to 7 PM
and Friday 9 AM to Noon.
Fax Line: 765-472-0783 Anytime.

---